Now, this may seem like a cop-out, totally generic post, but it's a lead in to a series of posts I want to do about my favorite films and how they have influenced my choices as a filmmaker. That said, this is not that post. Due to me having no idea how to break down every film I love below my top 3, I'm sticking with the 3 films that never seem to deviate from their spots at the top of my movie list.
1. Harakiri (1962) – IMDB
I remember watching Harakiri when I first moved to California. I was still breaking out of the 'horror-only' style of films I'd spent the better part of my first 22 years watching. It had been a blast up unto that point, watching all sorts of films I'd never given the time of day, simply because they didn't offer a gruesome amount of torture or terror. It is one thing to say that films were good, or entertaining, but it's certainly another to say that they can change the way you think about an entire medium. A drama centered around an elder ronin who requests an honorable place to commit suicide, Harakiri starts simply enough but sinks into a very dark place. Some place I think a lot of people can relate to. This is a film I'll definitely dive into on a later post, but needless to say, Harakiri sits comfortably at my number 1 spot for my favorite films.
2. Casablanca (1942) – IMDB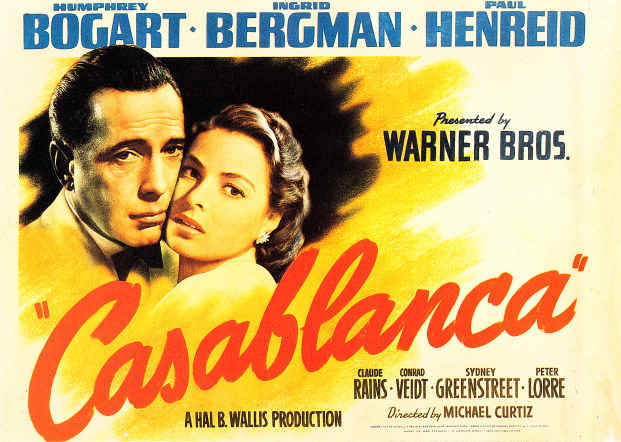 Casablanca is a film that needs no introduction. What Michael Curtiz created, over 70 years ago, was nothing short of a masterpiece, in my opinion.  I know some people find it 'cheesy' and 'generic', but since my first viewing, this film has only grown in scope and depth for me. The characters, the world, Rick's; it's all there. Very few dramas hold up like this classic, and it's easy enough to see why it's considered one of the most loved films of all time.
3. Chinatown (1974) – IMDB
Noir would probably my favorite categorization of films after horror (at the rate I've been moving away from horror this could very well blow past it). And, sitting comfortably at the top of the pile would be Chinatown. It wasn't made during the hey day of such classics as Murder, My Sweet or Out of the Past, but it took all the best aspects of those films and told a story that left my jaw on the floor when the third dropped one of the most devastating bombs in film history. Chinatown is a film that needs to be watched more than once just to pick up on all the nuances that Polanski and Towne dropped into the story.
I'll follow this up with numbers 4-10, but I'm going to need some time to put those into order. While you wait (with baited breath I'm sure) for my choices, why don't you leave your favorite three films in the comments section? And, if you want brownie points, let us know why they stand where they do!